Last month, the British Embassy of Athens arrived on the island of Andros to meet Russel and Lizzie, the two generous British 'Cyclades Green Volunteers' on the field – hosted by Andros Research Center (ARC). Ulli Stahlmann, a volunteer member of the ARC team, welcomed the visitors and presented the organization and the projects:  Andros Routes and Clean Green Andros.
After the introductions, the group headed for a short hike to path 15A, a lovely walk near Gavrio port. Here, they saw first-hand the efforts required to maintain and enhance the ancient paths, with activities such as painting signposts, cleaning and renovating steps, and pruning the vegetation. Lizzie and Russell had been busy maintaining the Andros trails for two weeks already.
The Embassy representatives along with CPF and ARC team members had the opportunity to monitor but also participate in the fieldwork for Andros Routes project, making a significant and symbolic contribution to the project.
The Embassy representatives were interested to learn more about the two projects; the certification of the trails, the volunteering institution (the Route Angels), the maintenance hikes, the plastic pollution issues, the waste management problems, the Drink Andros Water campaign, and the involvement of both residents and cultural associations in the maintenance and promotion of trails. Ulli highlighted the importance of volunteers in supporting the work of the organization saying that "The local society embraced the volunteers in a warm way. Their passion and enthusiasm helped to make a difference and highlight the importance of our work at the local level".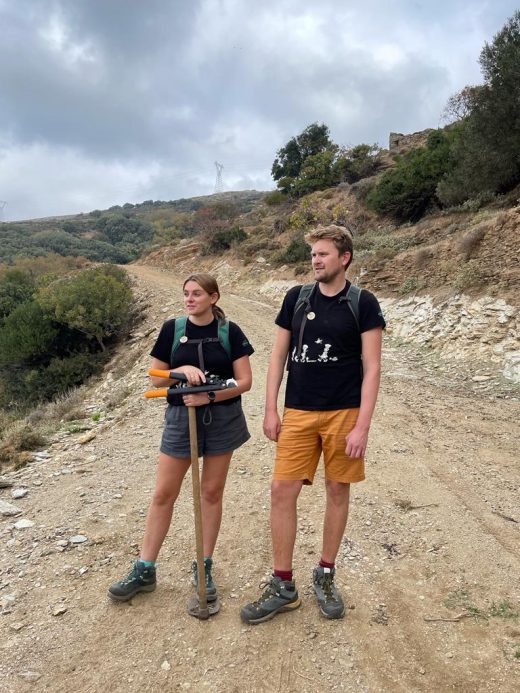 Mrs Jaime Turner, Policy Advisor of the Embassy, talked with the volunteers and stakeholders of the project and commented: «It was quite important for us to support a programme that would give the opportunity of a direct interaction between Greek and British people. I am happy to realise the common ground to work on for important cross cutting issues like the one of the environmental protection of the beautiful Cyclades».
The meeting ended up with a promise to return to Andros again, to walk on the paths and take part in one of the regular maintenance hikes.
The Cyclades Green Volunteers program is an initiative of the Cyclades Preservation Fund with the support of the British Embassy Athens. From September to November 2021, four volunteers have offered their time and effort on site in Andros and another two volunteers are working remotely on digital initiatives for Andros Research Center.