Cyclades Preservation Fund
Meet our Local Champions!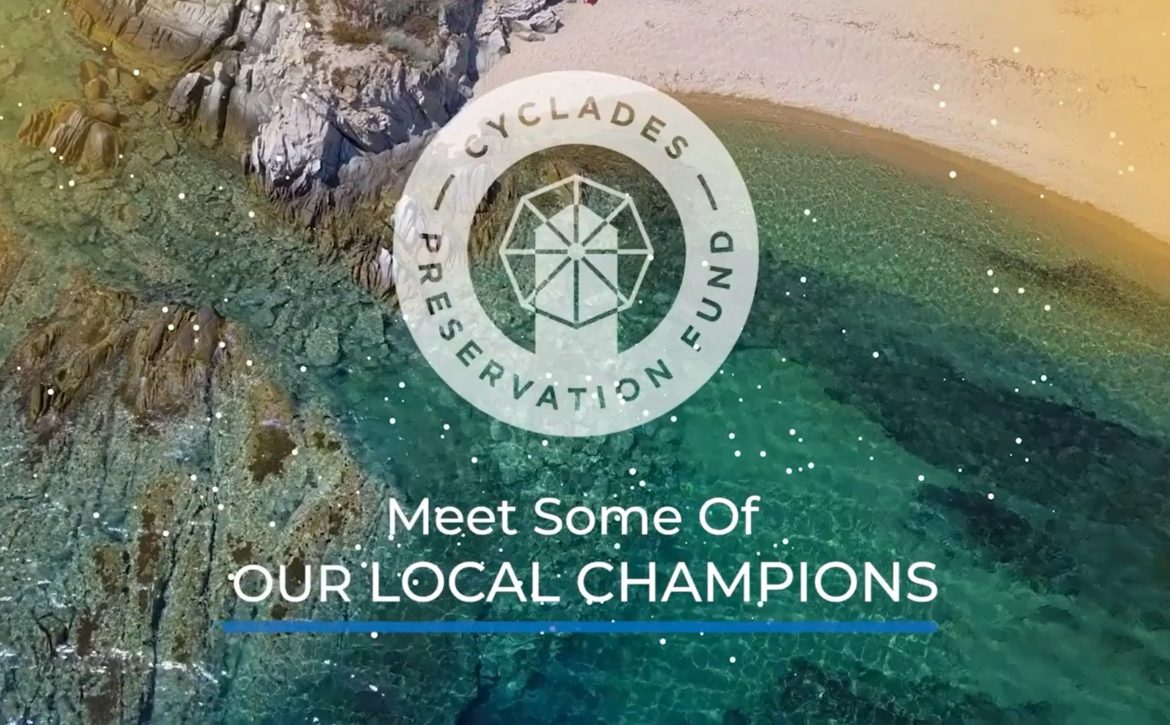 The Cyclades Preservation Fund is a registered Charity established in October 2017 in the UK to support sustainable initiatives and promote the preservation of the Cyclades. The cornerstone of our mission is to empower local communities and invest in the local environment.
We are a group of Greek and international friends of the 'Cycladic Islands' driven by confidence that the Cycladic islands have an incredible opportunity to evolve in a positive way and preserve their unique history, culture and environmental heritage while remaining a global tourist destination.
Our team carefully selects activities, initiatives, and partners that share a common vision to preserve the Cyclades. Our steering committee and advisory council help to select the best of these projects, and once grants have been made we continue to provide support and guidance to our grantees, the 'local champions' as we call them , as well as continuing to assess the impact of each grant.
In order to continue to achieve our goals we need supporters who share this common vision.
We encourage those who echo our passion for these special islands, or for the natural environment in general, to join us!
—
Produced by Cyclades Preservation Fund (CPF)
Coordination by Nassia Kassela
Contributions by Marianna Vlassi, Ifigeneia Kostantilieri, Christina Kalogeropoulou, Antigoni Anomeriti, Andrey Speranski, Anni Mitropoulou
Directed and edited by Oliwia Tado
Camera by Oliwia Tado and Kostis Kontogiannis
Featuring interviews by
Marios Fournaris – Alkioni Aegean Wildlife Hospital
Sofia Lykouropoulou – Naxos Ιsland Wildlife Protection Association
Yannis Orfanos – Naxos Ιsland Wildlife Protection Association
Anna Kagkani – Paros Environmental & Cultural Park, Ai Yiannis Detis
Elena Symeonidou – Paros Park Friends Association
Dimitris Kourtellis – NAIAS sailing club in Naoussa of Paros
Jo Royle – Common Seas
Kleri Downward – Common Seas
Io Stavridi – Social Cooperative Enterprise Apano Meria Environmental Park of Syros
Teo Romvos – Social Cooperative Enterprise Apano Meria Environmental Park of Syros
Ηara Pelekanou – Social Cooperative Enterprise Apano Meria Environmental Park of Syros
Spyros Bofylatos – School of Engineering, University of the Aegean
Petros Freris – Social Cooperative Enterprise Apano Meria Environmental Park of Syros
Olga Karagianni – Andros Research Center
Lefteris Arapakis – Enaleia
Panos Dendrinos – Mom Hellenic Society for the Study and Protection of the Monk Seal
Anni Mitropoulou – Cyclades Preservation Fund (CPF)
Andreas Gialoglou – Municipality of Syros