Enjoy the unique landscapes of Andros and help us preserve them!
Please log in in order to complete your donation.
Do you have a passion for walking in lush nature and cultural landscapes and at the same time for reducing waste? Would you like to support an initiative for sustainability on the greenest island of the Cyclades? Becoming a Green Angel on Andros is not just volunteering … the landscapes of Andros will steal your heart! You will have the chance to support both our projects :
on the "Andros Routes" project by learning the art of maintaining the ancient walkways
and on the "Clean Green Andros" project helping make Andros the cleanest in the Cyclades
2 weeks (minimum) or longer
Two participants for two weeks minimum duration – can be longer.
– Maintain the waymarkers, clear and tidy the ancient footpaths as guided by the Andros Routes Angels, the local trail caretakers
– Join the team effort to renew the Andros Route European Quality Certification
– Engage in training to build and repair gates and dry stone walls
– Record/map waste items disposed or collected, help us record statistics
– Help us with beach clean-ups
– Help promote recycling, composting and reducing single-use plastics at festivals or other events
– Conduct surveys regarding local Insights/knowledge about recycling and composting
5 hours per day/ 6 days per week
200 euros for two weeks
Accommodation not included, discounts offered, training included.
Type of accommodation suggested:
hat, sunscreen, swimsuit, trainers, walking shoes, camera, your smile!
– pre-departure (CPF) and on arrival training
– local coordinator
– covid19 mask and weekly self test,
– welcome kit (bag, T-shirt, cup, map, free guidebook).
– special prices for local buses, renting a car or a bike
Fly to Athens airport and then take the ferry boat from Rafina port to Andros. Alternatively, you can fly to Mykonos airport and then take the ferry boat to Andros.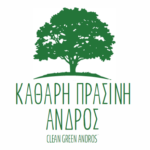 is a non-profit organisation founded in 2009 in Andros island with a mission to protect the unique and endangered nature and landscape of Andros, to research, record and revive local culture and heritage and to support and encourage sustainable tourism. The most well-known projects of the organisation are Andros Routes and Andros on Foot Festival, whose basic pillars of action are recording, maintaining and marketing the old hiking routes of the island with European standards. At the end of 2019, the organisation designed and operates the new project Clean Green Andros about waste management.