Help Online the Clean Green Andros Ιnitiative
Please log in in order to complete your donation.
Do you have a passion for reducing waste? Would you like to support an initiative for sustainability on the greenest island of the Cyclades?
You will have the chance to support both our projects :
on the "Andros Routes" project by learning about the hiking paths and sustainable tourism
and on the "Clean Green Andros" project helping make Andros the cleanest in the Cyclades
2 weeks (minimum) or longer
– Translations of materials
– Website support
– Social media management
– Media library support (videos, photos)
– Fundraising support
part time (2-3 days a week)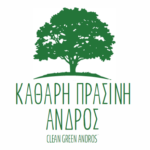 Andros Research Center is contributing to a sustainable future for Andros island. The center's vision is to inspire and encourage us all to reduce waste and single-use plastic on Andros, so it becomes a cleaner island, for its residents, wildlife nature and marine environments.